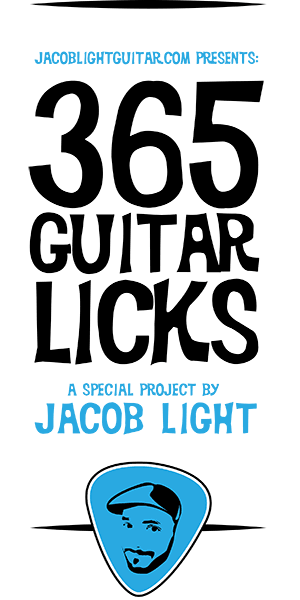 365 Guitar Licks Project started out as a personal challenge, but evolved into something much bigger than that. As guitar players, we always strive to be original and bring something new to the table. That drive and ambition led me to wonder how many licks I really use when I improvise: 10? 100? 1,000? I couldn't say for sure. I started thinking about a number that will satisfy me. How many licks do I think a good guitarist should have under his belt? The only answer that felt right was "more than he has now".
At first I thought about trying to learn a new lick every day, to enrich my musical vocabulary. That went well for a while, until I started to run out of fresh licks to learn. Most of what the internet had to offer was either repetitive (how many SRV licks are enough?!), too simple or just too elaborate. I didn't need the 10 minute explanation that came with the lick – I just wanted the lick itself. Learning entire solos from books was another option, but I've learned enough of them (100?) to know that if you're only looking for fresh ideas, perfecting an entire solo is a major overkill (plus: a looooong process).
I was looking for something simple and straightforward: a 1-minute video with notation or TAB that I can figure out in a couple of minutes and use to practice the idea its portraying. For example: if the lick used a string skipping idea, I could practice that idea across the scale, in different keys and throughout the fretboard. When I couldn't find anything like that, I decided to do it myself.
365 Guitar Licks Project is not only my gift to the world, but also a way for me to prove to myself that I can pull this off. I promise that if you spend just 5 minutes every day, you'll have an enormous musical vocabulary by the end of the year, not to mention tons of new ideas and a fresh approach to playing and learning. So if you're looking to diversify your playing and become a better all around guitar player, join me on this journey! It's 100% free and motivated solely by the love of music and guitar playing.
I'll see you on the other side!
Yours,

Jacob Light